POW/MIA/KIA Bands
We manufacture custom POW/MIA/KIA Bands.  Each band is made from anodized aluminum and engraved with custom information.
POW/MIA/KIA bracelets are engraved with the name of a service person who has been taken prisoner, gone missing in action, or has died in service.

These bands originated in the 1970's.  They were worn as a symbol of hope that POW's and MIA's would return home alive.  Today, they are worn to remember those who served for us in times of war, and also for those who give their lives for us today.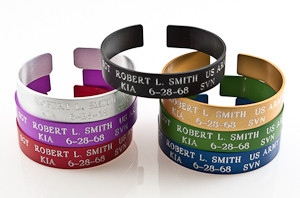 These are used for all branches of service in the Military as well as Police, Fire and Rescue.
We carry several colors of anodized aluminum as well as stainless steel in a standard size of 1/2″ x 6-1/2″.
We can engrave up to three lines of text on each bracelet, and we can also engrave custom logos.  We carry many stock logos (POW/MIA, MILITARY, US FLAG, ETC.), and we can create custom logos from your artwork.
These bracelet bands work great as fund raisers for local POW/MIA chapters.
For group purchasing information,  please call us at 608-328-8381.
 To Order A POW/MIA/KIA style bracelet in our store click here